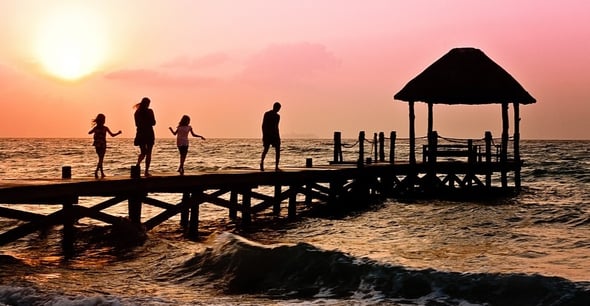 The Christmas holidays are just a few months away and many families are already beginning to plan for their annual holiday. The first thing to do when you are putting together a holiday planner is decide what type of holiday you want to have.
Do you want to go abroad? Are you planning to explore Europe ? Is a physical, action-packed holiday appealing? The second thing to do is to work out whether you have the money to make your ideal holiday happen. The good news is that your perfect holiday needn't break your budget.
Plan your holiday costs
Whether you're planning a beach holiday on the Gold Coast or a break-away to the white sands of a Mediterranean beach, there's no doubt your holiday is going to cost money. So before you book your tickets, use your holiday planner to work out how much it's all going to cost. Some costs to consider are:
Travel costs:

are you flying or driving by car?

Accommodation costs:

are you staying with friends or in rented accommodation?

Food:

are you staying at an all-inclusive resort or paying for every meal?

Entertainment:

will all your entertainment be covered by your resort costs or will you be paying for all your activities?

Visa and passport charges:

these can add up, so make sure you know exactly what they are.

Emergencies:

no one likes to think about them, but you should always have the money or the necessary insurance to cover you and your family in case of an emergency.

Communication costs:

does your cell phone plan cover making and receiving calls while you are abroad?

Insurance cover:

does your

home insurance

cover you for the loss of items while you are travelling? Are you covered if you fall ill while you are away? If not, you'll need to add this into your holiday planner budget.
Holidays on a discount
The travel industry is extremely competitive these days and there are some excellent deals available. Before you book your holiday consider doing the following:
Sign up to 'deal' websites
Discount websites like Groupon and All the Deals have many great holiday bargains, provided you can be flexible with your dates. Another good site to consider in terms of accommodation, especially if you are going abroad, is Airbnb which allows you to rent unique accommodations from local hosts in over 191 countries at almost half the price of hotel accommodation.
Your daily shopping can result in significant rewards. If you are planning on staying in Australia, you can use any grocery savings you may have to purchase food while you are on your holiday. You can even convert some of your points to entertainment and meals out in order to save on holiday costs.
Consider an 'indirect' flight
Direct flights are more expensive. Consider flying on an indirect route, via Hong Kong for example. Not only will your flight costs be cheaper, but you can also enjoy an exotic stopover in a place you hadn't planned to visit.
Peak season, which generally includes the school holidays, tends to be a lot more expensive than shoulder or out-of-season travel times. If you are flexible, you can plan your trip around the peak season or look at going away in the April school holidays when prices tend to be cheaper (and save a lot on both your flights and your accommodation).
Accessing your money abroad
If you're planning on going abroad, the first thing you must do is visit the Smart Traveller website to find out if there are any travel warnings relating to your holiday destination and if there are any extra vaccines you may need.
The next thing to work out is how to access your money while you're travelling. Most people tend to reach for their credit cards, which often charge expensive premiums for the privilege of making transactions abroad. To avoid this, the ASIC MoneySmart website advise you to get a prepaid travel card, which you can load with your foreign currency at a locked-in exchange rate. You can then use your prepaid travel card to purchase online, in stores and even withdraw money from ATMs.
Start saving for your holiday
Once you've worked out your expenses on your holiday planner, it's time to start saving for them. If your holiday is a few months away, it's wise to include 'saving for the holiday' into your monthly budget. Treat it the same way as you would paying off an expense.
By saving a regular amount every week or month, you can quickly build up your capital and when the holiday arrives, you'll be ready to go. Opening a separate bank account is also a good way to keep your holiday savings separate from your daily expenses and as the money builds up, so too will your interest on it.
You can also consider mortgage refinance to free up money for your trip. If you'd like to know more about saving money, lowering your monthly repayments and freeing up room in your budget for your holiday, contact us today for a no-obligation home loan assessment.