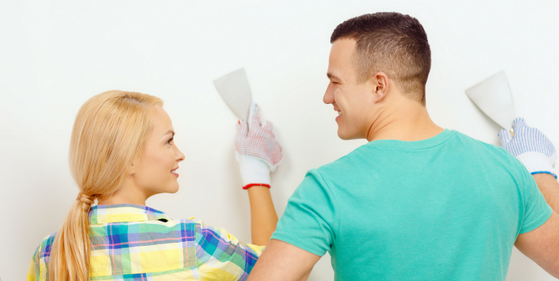 Let's be honest, Australians love, love love property and home improvements. As we fixate on elaborate home makeovers – that would cause even the trendiest of Joneses to turn a pale shade of green – we are fast making a name for ourselves as the 'renovation nation'.
Nothing epitomises this passion with property more than our popular, reality TV series, The Block, which showcases all of the latest and greatest home improvement 'must haves' for the season (while demonstrating how marvellously transformed a home can look once it receives a stylish dose of TLC).
This fascination with 'the next best thing' is really enough to make the most level-headed of individuals throw caution to the wind … and a heavy hammer at their (comparatively) ugly and outdated kitchen and bathroom tiles, to make space for all things mocha glossy, laminate and brand spanking new.
But, before taking aim (or action), first a word of caution...
Hold off on doing any renovations until you've done your homework properly
If you're an avid follower of The Block and are planning on renovating your home in the next few months (to make it "absolutely fabulous darling"), bear in mind that not all renovations will add to your property value. What's more, your version of home improvements may not seem like much of an upgrade to a future buyer at all and could just serve to put them off entirely.
Use these tips to renovate for profit and not for loss
Keep it neutral Think about your target audience and research a design that is going to appeal to them ie: neutral style, paired back furniture. It is important to recognise the difference between what you like and what the majority of your target market likes.


Keep it simple. Start with the most simple improvements such as fresh paint, new light fittings and freshly polished boards. These relatively low-cost improvements can make a big difference to the property's value without blowing the budget.

Other areas to focus on in your home include flooring (pull up those old carpets and opt to polish the timber floors or use laminate flooring instead), interior doors (add a fresh coat of paint or a new handle to interior doors to spruce them up without having to replace them entirely) and room lighting (a mixture of LED downlighting and halogen bulbs will add some great ambience to any room).




Open plan vs closed spaces. In general, open-plan living is a feature sought after by most buyers. This works best in the kitchen/living/dining areas and is not always applicable in other areas of the house where a private retreat would be an asset.


Outdoor impressions. Don't underestimate the value of a beautiful outdoor space. Updating the garden and outdoor space can add significant value to a property, especially if the outdoor space can double as an outdoor room or eating area.

Washing, painting and fixing fences or boundary walls can give your property an instant, value-adding facelift – and it's cost effective too!




Consider an extra bedroom. Do you have a study that could be turned into an extra bedroom for? Low availability of 3-4 bedroom homes is a big issue in the inner city areas.


You can never have enough storage. Adequate storage is always on the hot list of any prospective buyer and so a quick audit of your storage space could reveal some opportunity for improvements. And if you think that buyers wont take a sneak peak in your cupboards - you are wrong. Consider updating or expanding wardrobes, linen cupboards, laundry or kitchen storage. Simple shelving in open spaces can make a huge difference.
Property value
Consider getting your property valued before you start your improvements, to get an idea of how much youWhile new bathrooms and kitchens are often the most expensive part of a renovation, they are still a home's major selling point and cannot be neglected. Revamping a bathroom to replace fixtures, flooring and tiling can do wonders for a property's resale value, while a refurbished kitchen can increase its market value by up to 20%.
Look for a mortgage refinance deal that has the best possible rates and fees
Most home owners looking to make improvements to their homes don't generally have huge wads of spare cash lying around to use at will. Refinancing a mortgage is one way of freeing up some equity in your home loan so that you can get to those renovations.
Collins Home Loans can assist with finding the best mortgage refinance deals for your financial needs. Talk to one of our mortgage specilaists today to find out how to free up some of your home's equity for your 'Block' moment.
Disclaimer: The information provided in this is article is general in nature and is not intended as financial or investment advice and should not be relied on as such. You should always seek your own independent advice from qualified specialists as per your own specific circumstances.