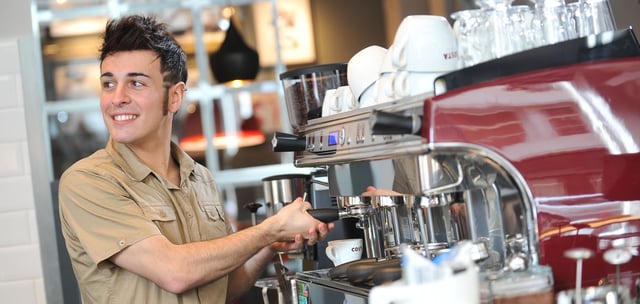 Running your own small business has many rewards but the financial costs associated purchasing and maintaining the diversity of equipment you need, can be at times overwhelming. Small business owners face unique challenges such as seasonal income variations, labour issues, technology changes and the unpredictable nature of markets. All these all impact on their ability to run a profitable and productive business.
For small business owners, investing in new equipment is vital in order to improve efficiencies and grow your business. Up-to-date computers, fleet vehicles, home-office equipment and production machinery could help you achieve steadier business growth. Financing the acquisition of this equipment offers significant benefits and should be considered when upgrading equipment.
Consider your funding options
Determining the type of finance you need will depend on a number of factors such as the length of time the equipment is needed, your business structure and your cash flows imperatives, so let's start by asking a few important questions:-
How important is it that you own the asset?
Is your cash flow such that you see a benefit in the asset being off your balance sheet?
Does a flexible payment structure appeal, especially if can be matched to seasonal cash flow fluctuations?
Can your business accommodate a change interest rates?
Depending on how you responded to the questions above, will determine which finance option is best for you. Here are five good reasons why small businesses should consider equipment finance when purchasing new or used equipment:
Manage risk by not diverting working capital to purchase assets.
Allows for regular upgrading of equipment to ensure the most up to date technology.
Utilise equipment financing to reduce your tax bill.
Customise income to match seasonal cash flows.
Hold onto your cash for other purposes and to provide a buffer in your business
Which equipment finance option is right for me?
There are pros and cons for each of these options, which is why it is important to speak to an equipment finance specialist to determine the best fit for your needs. It is a process that is familiar to Sam, a cafe owner from Melbourne's northwest. Sam had recently branched out from his family's cafe business, taking over from his father and leasing a second cafe next door.
Cafes and coffee were second nature to Sam and he felt confident he could scale up the enterprise but was unsure what his finance options were. There was so much to sort out and he wasn't sure where to start.
As a starting point, Sam needed two purchase two reconditioned espresso machines, new tables and chairs and a second hand oven and extractor fan for the expanded cafe next door. All up he was looking at over $55,000 in costs and a loan like that, for the average 25-year-old with no financial history – would have been close to impossible to obtain.
After speaking with Rob from Express Fund, Sam was quickly able to get a better understanding of his options. Rob recommended the 12 month rent-to-buy option as good solution for his reconditioned espresso machines, second hand oven and extractor fan as this option allowed for second hand equipment of any age with no limitations. This was a perfect for Sam as it meant he had the option to purchase the espresso machines outright after 12 months as well as pay off the oven and extractor fan with no residual.
Sam also had the option down the track to swap to a longer term ownership model, where he could gain a 30% discount on his weekly rent and purchase the equipment for a nominal amount at the end.
Getting the right advice

If all of this seems a little daunting, then it is a good idea to speak with equipment finance specialist who can review your circumstances and provide you with advice on the best option. At Express Fund, the application process is an easy and obligation free. Start by completing a few details about yourself and the type of equipment you are interested in and will then be back in touch with you within 24 hours, with the some quotes and a pre-approval.
Alternatively, if you'd like to speak with one of our equipment specialists, feel free to give us a call on 1800 265 546. You can make a time to speak on the phone with one of our accredited finance brokers who can answer any questions you may have or start the application process for you.